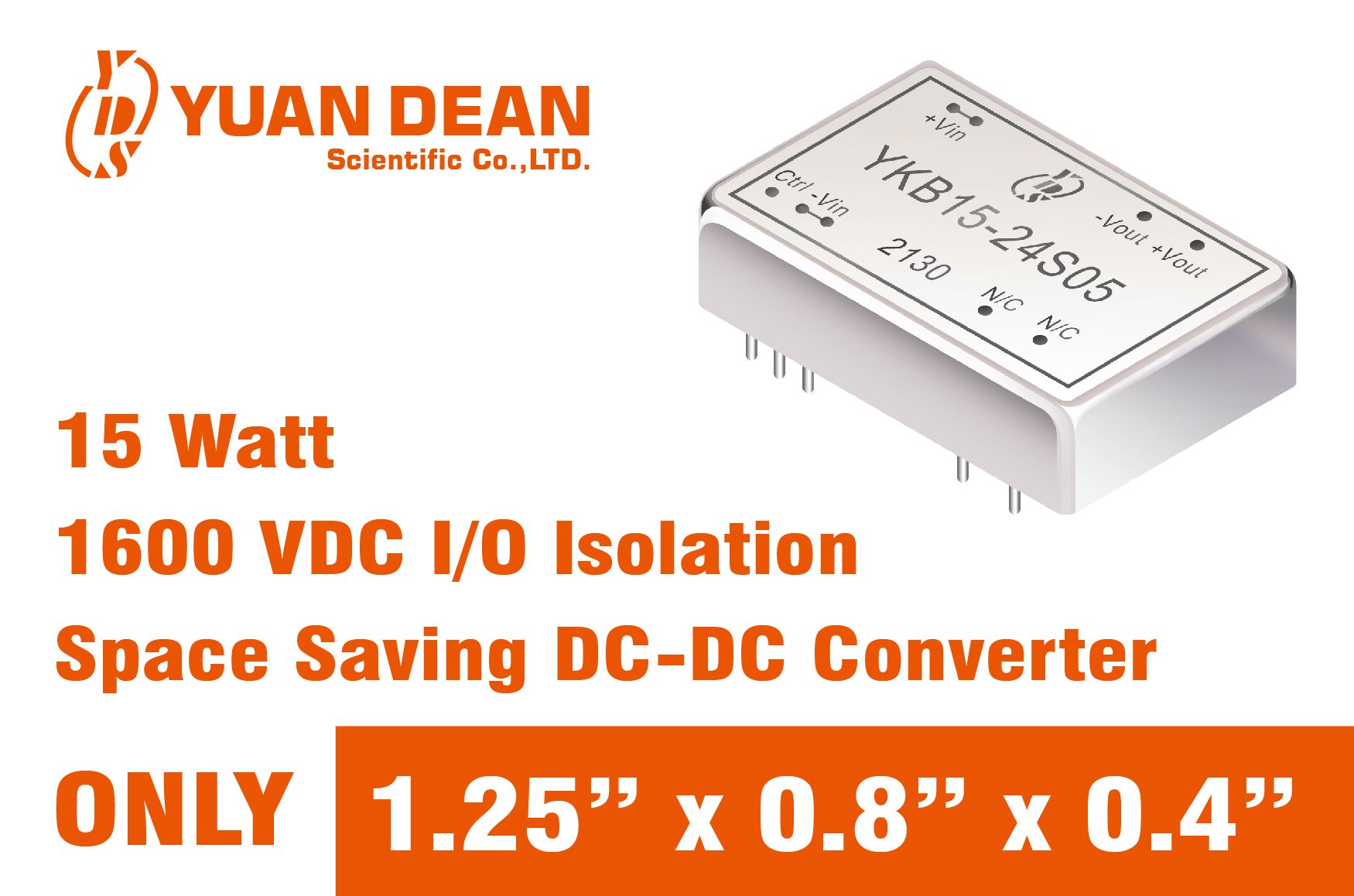 YKB series – 15 Watt DC/DC power supplies with compact size
DC/DC power conversions with only 1.25"x0.8"x0.4" size provides both single and dual output specification.
All models from this series have a 4:1 wide input range and 1600VDC I/O isolation.
---
03 Nov, 2021
These converters work with a high efficiency over the full load range.
Input voltage of 24, 48 and output voltage of 5, ±12, ±15, 24VDC.
This series is a perfect fit solution for space critical projects.
Features
High power density with DIP 24 package
Space saving DC-DC converter
4:1 wide input voltage range
Efficiency high up to 91%
I/O isolation 1600 VDC
Protection for short circuit and over voltage
Related Products

YKB15 Series

15 watt 1.25'' x 0.8'' DC to DC power converter with a wide input 4:1 voltage range in 24 pin DIL package. YKB15 series has a 1.6KV isolation voltage....

Details
Power Converter | Transformer | Magnetic Component | YDS
Located in Taiwan, YUAN DEAN SCIENTIFIC CO., LTD., since 1990, is a power converter, transformer, magnetic component manufacturer in electronic component industry. Main product, including DC/DC converter, AC/DC converter, RJ45 with magnetics, 10/100/1G/2.5G/10G Base-T Lan filter, Delay Lines, all kinds of Transformer, Inductor, LED Driver/Lighting products and Power bank.
ISO 9001 & ISO 14001, IATF16949 certified power converter, high frequency transformer, magnetic component with reliable EMC and EMI / EMS / EDS lab tests. Power converter solutions for medical, railway, POE, etc.
YDS has been offering customers high-quality power converter, transformer, magnetic component, both with advanced technology and 25 years of experience, YDS ensures each customer's demands are met.