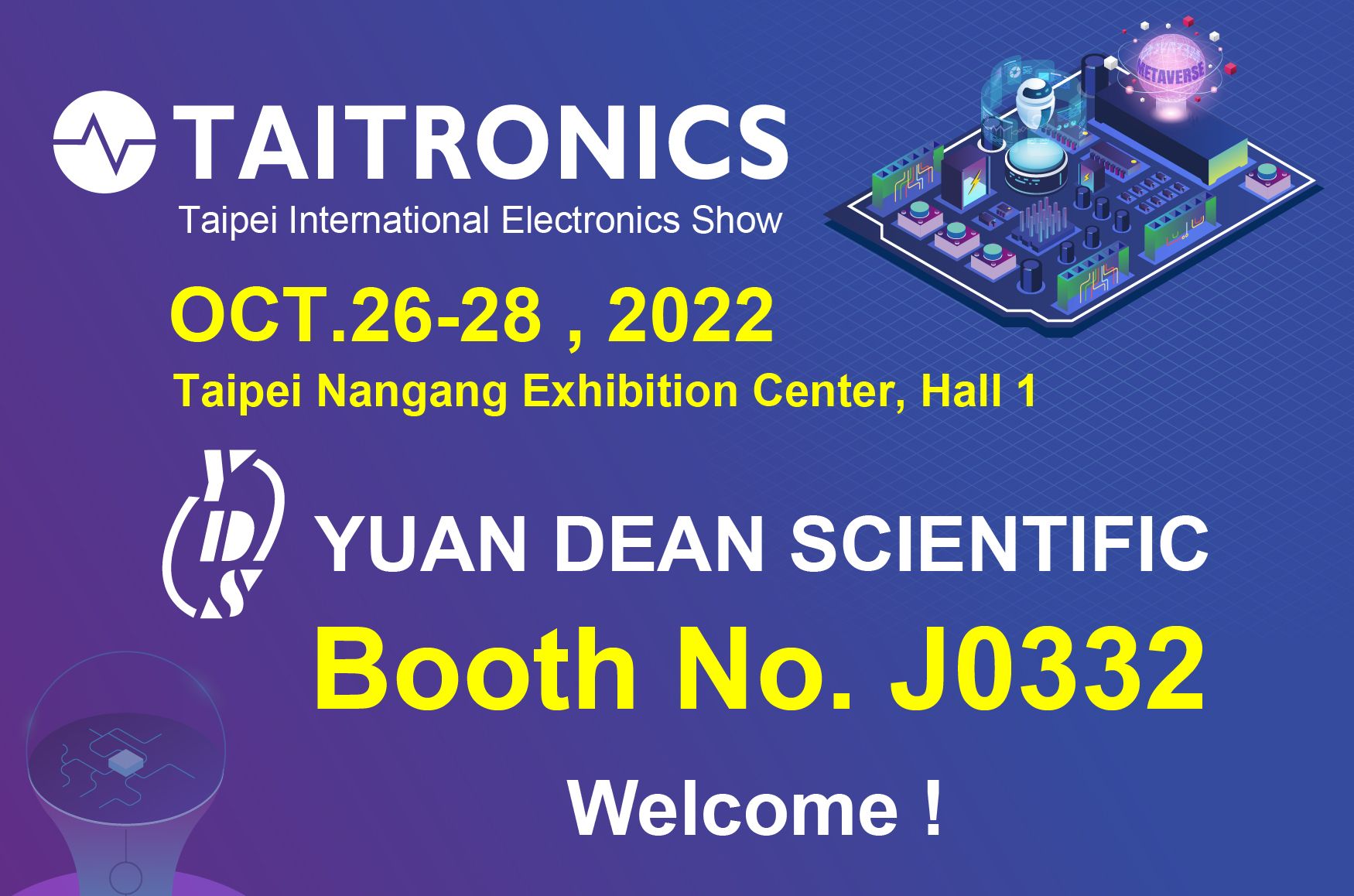 Yuan Dean at 2022 TAITRONICS Taipei International Electronics Show
TAITRONICS 2022 continues to focus on electronic components and accessories, instrumentation, batteries and Power Supplies, and electrical automation equipment. Cross-sector integration of industries will shape a new generation and opportunities for Taiwan's electronics manufacturing industry, and create business opportunities together.
---
12 Sep, 2022
Exhibition Details
Exhibition Name: 2022 TAITRONICS Taipei International Electronics Show
Organizer: TAITRA / TEEMA
Show Date: 2022/10/26 ~ 10/28
Venue: Taipei Nangang Exhibition Center, Hall 1
Our booth No.J0332
Gallerys
Yuan Dean at 2022 TAITRONICS Taipei International Electronics Show - ISO 9001/ISO 14001/IATF 16949 Power Supply & Magnetic Components Manufacturer | YUAN DEAN SCIENTIFIC CO., LTD.
Based in Taiwan since 1990, YUAN DEAN SCIENTIFIC CO., LTD. has been a power converter, transformer, magnetic components manufacturer in Electronic Components Industry. Their main products, include DC-DC Converters, AC-DC Converters, RJ45 Magnetics, Converter Transformers, LAN Filters, High Frequency Transformers, POE Transformers, Inductors and LED drivers, which are RoHS approved with ERP system implemented.
YDS was established in 1990 at Tainan, Taiwan and our factory Ho Mao electronics was established in 1995 at Xiamen, China. We are the leading electronic manufacturer with ISO 9001, ISO 14001 and IATF16949 certified. We Produce various products such as DC/DC converter, AC/DC converter, RJ45 with magnetics, 10/100/1G/2.5G/10G Base-T Lan filter, all kinds of Transformer, Inductor, LED Driver/Lighting products and Power bank. ISO 9001 & ISO 14001, IATF16949 certified power converter, high frequency transformer, magnetic component with reliable EMC and EMI / EMS / EDS lab tests. Power converter solutions for medical, railway, POE, etc.
YDS has been offering customers high-quality power supply and magnetic components, both with advanced technology and 25 years of experience, YDS ensures each customer's demands are met.