5W 4KVac Isolation Single Output Open Frame AC-DC Converter (For Medical)
GB5M Series
5W 4KVac Isolation Single Output AC-DC Power Conversion (Open Frame)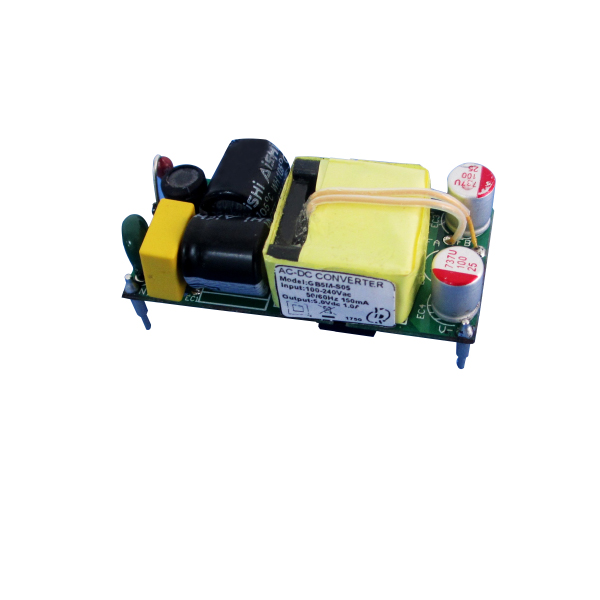 GB5M series is a 5 watt open frame AC to DC power conversion, 4KVac isolation voltage, universal input voltage 80~264VAC, no-load power consumption <0.1W, with short circuit, overload, over voltage and over temperature protection functions. Medical safety design refer to (2 X MOPP) according to ANSI/AAMI ES60601-1 and IEC/EN60601-1certification (2 X MOPP). Extremely low leakage current and no minimum load required. Suitable for a variety of medical applications such as portable medical equipment, mobile clinical workstations, medical computer monitor, etc..
The AC-DC power converter products of Yuan Dean are RoHS-compliant, and can be customized for products. The products are guaranteed for 3 years after sale.
Features
Universal input 80~264VAC.
Medical safety design refer to (2 X MOPP) accroding to ANSI/AAMI ES60601-1 and IEC/EN60601-1.
Suitable for BF application with appropriate system consideration.
No load power consumption<0.1W.
Extremely low leakage current.
EMI class B for class Ⅱ configuration.
Protection: short circuit/overload/over voltage/over temperature.
No minimum load required.
3 years warranty.
ROHS compliant.
Applications
Portable medical device.
Mobile clinical workstaion.
Medical computer monitor.
Medical examination instrument.
Specifications typical at TA = 25°C, nominal input voltage and rated output current unless otherwise specified
Part Number
Output Wattage
Output Voltage
Output Current
Ripple & Noise
Efficiency
(W)
(VDC)
(mA)
(mV) max(Note)
(TYP %)
GB5M-S05
5.0
5
1000
100
76
GB5M-S12
5.0
12
420
150
80
GB5M-S15
5.0
15
330
150
81
GB5M-S24
5.0
24
230
180
82
Note:Ripple & noise is measured by using 20 MHz bandwidth, measured with a 47uf paralleled with a high-frequency 0.47uf capacitor across each output by full load.
Input Specifications
Parameters
Conditions
Min
Typ
Max
Units
Rated Input Voltage
Vo, Io nom
100 ~ 240
Vac
Voltage Range
Vo, Io nom
AC in
80
264
Vac
DC in
105
370
Vdc
Line Frequency
Vi nom, Io nom
47
50/60
63
Hz
Input Current
Io nom
Vi:115VAC
25
A
Vi:230VAC
45
A
Input Current
(Full load)
0.2A (115Vac) 0.1A (230Vac)
Input Fuse
VDE/UL/CCC FUSE 2.5A/250V (Slow blow)
Output Specifications
Parameters
Conditions
Min
Typ
Max
Units
Output Voltage Accuracy
Vi nom, Io nom
5V Models
± 3
%
12/15/24V Models
± 2
%
Minimum Load
Vi nom
0
%
Line Regulation
Io nom, Vi min…Vi max
± 0.3
%
Load Regulation
Vi nom, Io min…Io nom
± 0.5
%
Protection
Overload
Above 110% rated output power
Protection type: Recovers automatically after fault condition is removed
Short circuit
Recovers automatically after fault condition is removed
Over Voltage
110%-150% rated output Voltage
Protection type: Zener diode clamp
Over Temperature
Protection type: Shut down o/p voltage, recovers automatically after temperature goes down
General Specifications
Parameters
Conditions
Min
Typ
Max
Units
Isolation Voltage
Input / Output
4KVac/ 5mA/60Secs
Isolation Resistance
Input / Output,@500Vdc
100
MΩ
Operating Temperature
Operating at Vi nom, Io nom
-25
+85
°C
Storage Temperature
Non Operational
-40
+100
°C
Relative Humidity
Vi nom, Io nom
95
% RH
Dimension
L48.5x W23 x H14.0mm
Cooling
Free air convection
Certification
Markings and Dimensions

Related Products

GA5M Series

---

GA5M series is a 5 watt AC to DC power conversion module, 4KVac isolation voltage, universal input voltage 80~264VAC, no-load power consumption <0.1W, with short circuit, overload, over voltage and over temperature protection functions. Medical safety design refer to (2 X MOPP) according to ANSI/AAMI ES60601-1 and IEC/EN60601-1certification. Extremely low leakage current and no minimum load required. Suitable for a variety of medical applications such as portable medical equipment, mobile clinical workstations, medical computer monitor, etc.. The AC-DC power converter products of Yuan Dean are RoHS-compliant, and can be customized for products. The products are guaranteed for 3 years after sale.

---

GA10M Series

---

GA10M series is a 10 watt regulated output AC to DC power conversion module, 4KVac isolation voltage, universal input voltage 80~264VAC, no-load power consumption <0.1W, with short circuit, overload, over voltage and over temperature protection, design Refer to ANSI / AAMI ES60601-1 and IEC / EN 60601-1 medical safety certification (2 X MOPP). Extremely low leakage current and no minimum load required. Suitable for a variety of medical applications such as portable medical equipment, mobile clinical workstations, medical computer monitor, etc.. The AC-DC power converter products of Yuan Dean are RoHS-compliant, and can be customized for products. The products are guaranteed for 3 years after sale.

---

---

Files Download

---

5W 4KVac Isolation Medical Application Open Frame AC-DC Power Converter PDF Catalogue

---

---
Press Release
2020 Electronica China Exhibition

From March 18th to March 20th, it will be exhibited at Shanghai New International Expo Centre. Our booth number is E6.6756. We sincerely invite you to visit.

Read More

Yuan Dean has been certified by the IATF 16949:2016

It is our pleasure to have IATF 16949:2016 certified. To fulfill customers' requirements, YDS provides appropriate training to support IATF 16949 requirements in manufacturing and R&D.

Read More

2019 TAITRONICS Exhibition

From October 16th to October 18th, it will be exhibited at Hall 1 of Taipei Nangang Exhibition Center. Our booth number is K0803. We sincerely invite you to visit.

Read More