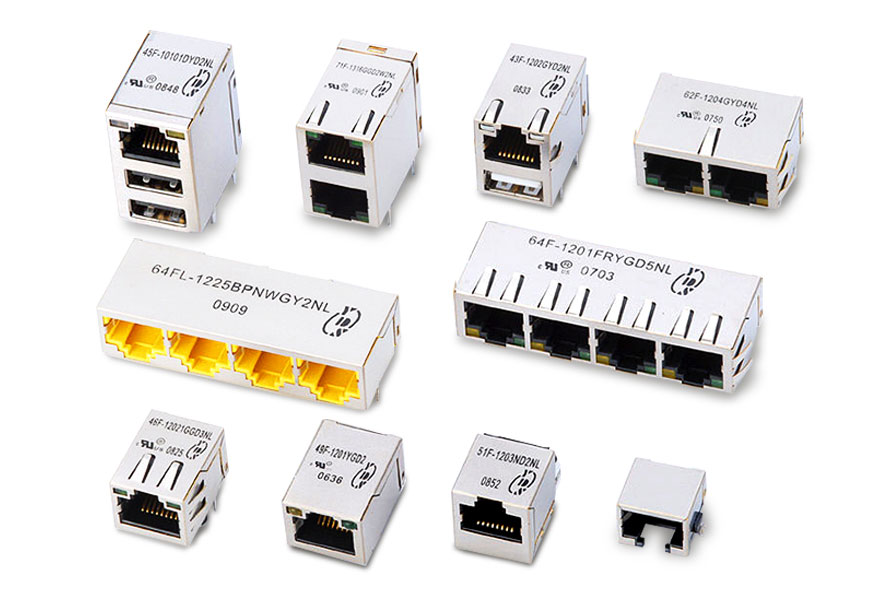 RJ45 With Magnetics
RJ45 Connectors w/o Magnetics, w/o LEDs
RJ45 connectors with various appearance and transport speed options, such as
USB integrated with RJ45 Jacks, 2xN Integrated Jacks, 90∘/180∘RJ45 with Through hole or Surface Mount package. These connectors are suitable for industrial temperatures from –40 °C up to +85 °C.

RJ45 products can be applied on PoE network PHY IC of 10Base, 10/100Base, 1000Base (1G), 2.5G, 5G, 10G transport speed. Our RJ45 connectors are compatible to Industrial Ethernet systems and are certified by UL.
YDS also offers a wide-range options for RJ45 connectors to satisfy customer's demands.
---
RJ45 integrated Jack network module is combined by RJ45 connector and RJ45 magnetics. The combination simplifies PCB layout as well as creating a saving space for magnetics in PCB, further reduces the resource consumption of development system.
RJ45 With Magnetics Supplier | YDS
Located in Taiwan, YUAN DEAN SCIENTIFIC CO., LTD., since 1990, is a RJ45 With Magnetics manufacturer in electronic component industry. Main product, including DC/DC converter, AC/DC converter, RJ45 with magnetics, 10/100/1G/2.5G/10G Base-T Lan filter, Delay Lines, all kinds of Transformer, Inductor, LED Driver/Lighting products and Power bank.
ISO 9001 & ISO 14001, IATF16949 certified power converter, high frequency transformer, magnetic component with reliable EMC and EMI / EMS / EDS lab tests. Power converter solutions for medical, railway, POE, etc.
YDS has been offering customers high-quality power converter, transformer, magnetic component, both with advanced technology and 25 years of experience, YDS ensures each customer's demands are met.