Single Port 2.5G Base-T PoE & PoE+ RJ45 Jack with Magnetics
56F (2.5G PoE) Series
Single Port 2.5G Base-T PoE & PoE+ RJ45 Connetor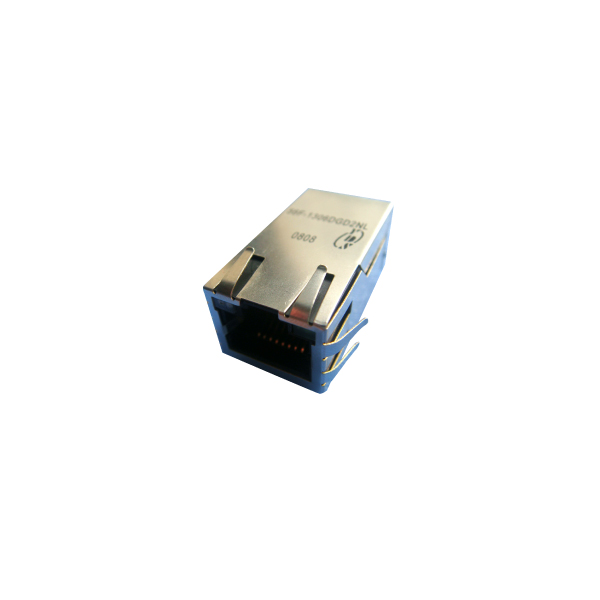 The 56F (2.5G PoE) series is a 2.5G Base-T single port RJ45 jack with magnetics that can be used in PoE and PoE+, Tab up. Available in 16 pin signal pin version, IEEE 802.3af compliant (350mA/720mA) for CAT 5 and 6 Fast Ethernet cables or better UTP, internal magnetic 100% electrical test of HI-POT and features with LED version.
The RJ45 connector products of Yuan Dean are RoHS-compliant, and can be customized for products.
Features
1x1 Tab-up, 1" long RJ45 with internal magnetics.
16pin signal pin versions available.
Available with LEDs.
Suitable for CAT 5 & 6 fast ethernet cable or better UTP.
Internal magnetics are 100% electrically tested for HI-POT and functionality.
Meet IEEE 802.3af standards with 350mA.
Meet IEEE 802.3at standards with 720mA.
Applications
Telecom equipment.
HUB.
Wireless router station.
VoIP device.
Vedio camera.
Electrical Specifications@25°C; Operating Temperature 0°C to 70°C
Part Number
Turns Ratio
(± 3%)
LEDs
Insertion Loss
(dB MAX)
Return Loss
(dB MIN)
Crosstalk
(dB TYP)
DCMR
(dB TYP)
CMR
(dB TYP)
CDMR
(dB TYP)
POE Current
Hipot
(Vdc)
L/R
1-50
MHz
1-125
MHz
1-40
MHz
40-200
MHz
1-125
MHz
125-200
MHz
1-10
MHz
10-200
MHz
1-125
 MHz
1
 MHz
50
 MHz
100
 MHz
200
 MHz
@60Hz
56F-1801DDD2NL
1CT: 1CT
G/Y &
G/Y
-0.5
-1.0
-20
-20+15log(f/40MHz)
-30
-25
-48
-48+19log(f/10MHz)
-35
-30
-30
-27
-24
720mA
2250
56F-18012DDD2NL
1CT: 1CT
G/Y &
G/Y
-0.5
-1.0
-20
-20+15log(f/40MHz)
-30
-25
-48
-48+19log(f/10MHz)
-35
-30
-30
-27
-24
350mA
2250
Certification
Mechanicals and Dimensions

Related Products

---

Files Download

---

PoE & PoE+ Solution 2.5G Base-T Tab Up Single Port RJ45 Jacks PDF Catalogue

---

---
Press Release
2019 Taipei International Industrial Automation Exhibition

From August 21th to August 24th, it will be exhibited at Taipei World Trade Center Nangang Exhibition Hall 2 4F. Our booth number is R921. We sincerely invite you to visit.

Read More

2019 TAITRONICS Exhibition

From October 16th to October 18th, it will be exhibited at Hall 1 of Taipei Nangang Exhibition Center. Our booth number is K0803. We sincerely invite you to visit.

Read More

Yuan Dean has been certified by the IATF 16949:2016

It is our pleasure to have IATF 16949:2016 certified. To fulfill customers' requirements, YDS provides appropriate training to support IATF 16949 requirements in manufacturing and R&D.

Read More