Single Port 2.5G Base-T PoE & PoE+ RJ45 Jack with Magnetics
56F (2.5G PoE) Series
Single Port 2.5G Base-T PoE & PoE+ RJ45 Connetor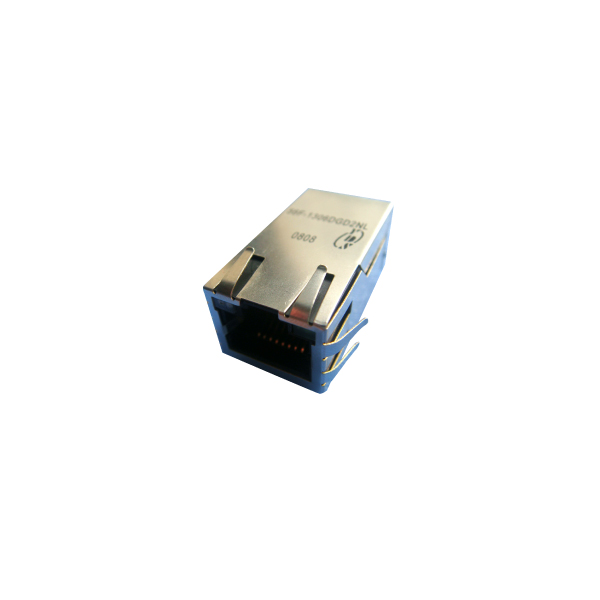 This 2.5G Base-T single port RJ45 jack with magnetics can be used in PoE and PoE+ applications. 56F(2.5G PoE) series has Tab up port and is available in 16 pin signal pin version. IEEE 802.3af compliant (350mA/720mA) for CAT 5 and 6 Fast Ethernet cables or better UTP. Internal magnetic 100% electrical test of HI-POT. This product can be selected with LED version.
The RJ45 connector products of Yuan Dean are RoHS-compliant, and can be customized for products.
Any OEM/ ODM requirement is welcome. We look forward to cooperating with you!
Features
1x1 Tab-up, 1" long RJ45 with internal magnetics.
16pin signal pin versions available.
Available with LEDs.
Suitable for CAT 5 & 6 fast ethernet cable or better UTP.
Internal magnetics are 100% electrically tested for HI-POT and functionality.
Meet IEEE 802.3af standards with 350mA.
Meet IEEE 802.3at standards with 720mA.
Applications
Telecom equipment.
HUB.
Wireless router station.
VoIP device.
Vedio camera.
Electrical Specifications@25°C; Operating Temperature 0°C to 70°C
Part Number
Turns Ratio
(± 3%)
LEDs
Insertion Loss
(dB MAX)
Return Loss
(dB MIN)
Crosstalk
(dB TYP)
DCMR
(dB TYP)
CMR
(dB TYP)
CDMR
(dB TYP)
POE Current
Hipot
(Vdc)
L/R
1-50
MHz
1-125
MHz
1-40
MHz
40-200
MHz
1-125
MHz
125-200
MHz
1-10
MHz
10-200
MHz
1-125
 MHz
1
 MHz
50
 MHz
100
 MHz
200
 MHz
@60Hz
56F-1801DDD2NL
1CT: 1CT
G/Y &
G/Y
-0.5
-1.0
-20
-20+15log(f/40MHz)
-30
-25
-48
-48+19log(f/10MHz)
-35
-30
-30
-27
-24
720mA
2250
56F-18012DDD2NL
1CT: 1CT
G/Y &
G/Y
-0.5
-1.0
-20
-20+15log(f/40MHz)
-30
-25
-48
-48+19log(f/10MHz)
-35
-30
-30
-27
-24
350mA
2250
Certification

Mechanicals and Dimensions

Related Products

---

Files Download

---

PoE & PoE+ Solution 2.5G Base-T Tab Up Single Port RJ45 Jacks PDF Catalogue

---

---
Press Release
2020 Electronica China Exhibition

From March 18th to March 20th, it will be exhibited at Shanghai New International Expo Centre. Our booth number is E6.6756. We sincerely invite you to visit.

Read More

Yuan Dean has been certified by the IATF 16949:2016

It is our pleasure to have IATF 16949:2016 certified. To fulfill customers' requirements, YDS provides appropriate training to support IATF 16949 requirements in manufacturing and R&D.

Read More

2019 TAITRONICS Exhibition

From October 16th to October 18th, it will be exhibited at Hall 1 of Taipei Nangang Exhibition Center. Our booth number is K0803. We sincerely invite you to visit.

Read More