Single Port 10/100 Base-T USB Integrated RJ45 Jack with Magnetics
43F/44F Series
10/100 Base-T TAB Up USB Integrated RJ45 Connector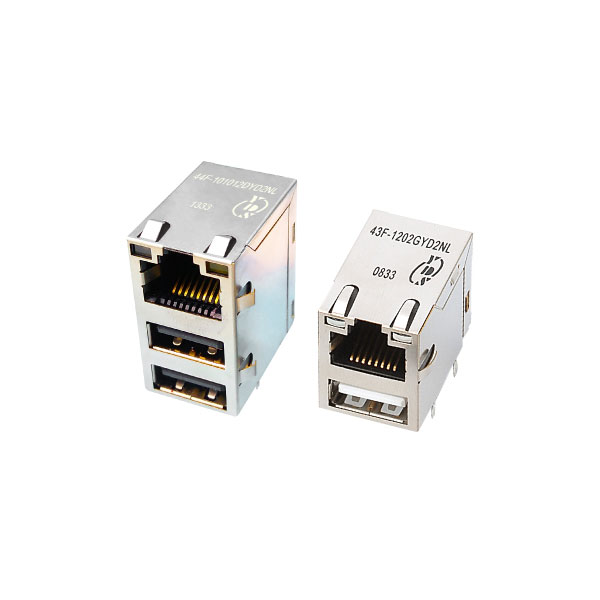 We provide USB + RJ45 integrated connector with various kind of layout and transport speed 10/100 Base-T, customized requirement is also welcome.
Yuan Dean can provide high efficiency production solutions and customized products.
Features
LAN interface suitable for 10 / 100Base-TX applications.
RJ45 / USB stacked design saves on PCB real estate.
USB module complies with USB 2.0 standards and meets CAT5 Fast Ethernet industry performance standard.
Magnetics are 100% electrically tested for HI-POT and continuity.
Meets or exceeds IEEE 802.3 and ANSI X3.263 standards including 350 µH minimum OCL with 8 mA bias.
Applications
Telecom equipment.
HUB.
Wireless router station.
VoIP device.
Vedio camera.
Electrical Specifications@25°C; Operating Temperature 0°C to 70°C
Part Number
Turns Ratio
(± 5%)
Insertion Loss
(dB MAX)
Return Loss
(dB MIN @100Ω ± 15Ω)
Crosstalk
(dB TYP)
CMR
(dB MIN)
Hipot
(Vrms)
TX
RX
1-100
MHz
1-30
MHz
30-60
MHz
60-80
MHz
0.5-100
MHz
0.3-100
MHz
@ 60Hz
43F-1201DYD2NL
1CT: 1CT
1CT: 1CT
-1.0dB
-18dB
-18 + 20Log (F/30MHz)
-12dB
-35dB
-30dB
1500
44F-10101DYD2NL
1CT: 1
1CT: 1CT
-1.0dB
-16dB
-16 + 20Log (F/30MHz)
-12dB
-30dB
-20dB
1500
Mechanicals and Dimensions

Related Products

45F Series

---

We provide Dual USB + RJ45 integrated connector with various kind of layout and transport speed 10/100/1000 Base-T, customized requirement is also welcome. Yuan Dean can provide high efficiency production solutions and customized products.

---

---

Files Download

---
Press Release
2019 Taipei International Industrial Automation Exhibition

From August 21th to August 24th, it will be exhibited at Taipei World Trade Center Nangang Exhibition Hall 2 4F. Our booth number is R921. We sincerely invite you to visit.

Read More

Yuan Dean has been certified by the IATF 16949:2016

It is our pleasure to have IATF 16949:2016 certified. To fulfill customers' requirements, YDS provides appropriate training to support IATF 16949 requirements in manufacturing and R&D.

Read More

2019 Expo Electrionica

From April 15th to April 17th, it will be exhibited at Moscow, Crocus Expo, Pavilion 3, halls 12,13. Our booth number is A165. We sincerely invite you to visit.

Read More