2W 1KV Isolation SIP DC-DC Converter(14DB-2W)
14DB-2W Series
2W 1KV SIP DC-DC Power Converter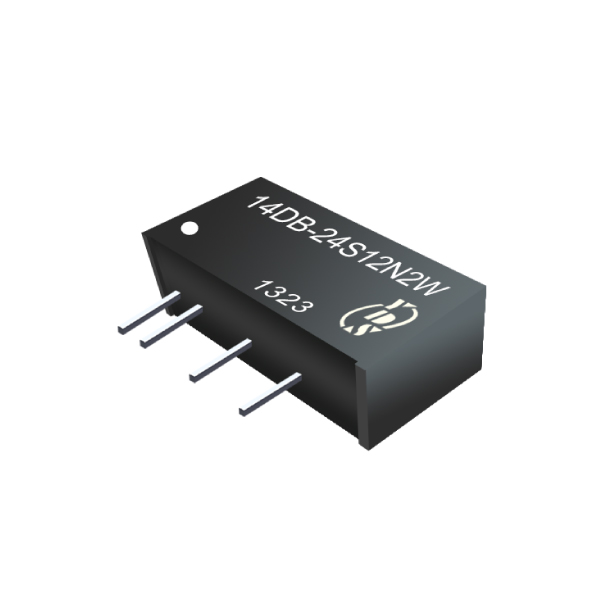 14DB-2W Series 2W 1KV Isolation Continuous Protection DC-DC Converters

Yuan Dean provides all series of 0.25 ~ 9W unregulated / regulated DC-DC converters with SIP package. The great efficiency allow the most of our product's operating temperature reaching from -40°C to +85°C.
14DB-2W series with 7PIN SIP Package and high Efficiency up to 85%.
Features
7PIN SIP Package.
High Efficiency up to 85%.
Output Continuous Short Circuit Protection.
Unregulated Output Types.
Internal SMD Construction.
Industry Standard Pinout.
Operating Temperature:-40℃ TO +105℃.
Applications
Industry equipment.
Sensing equipment.
Instruments.
Wireless Network.
Telecom/Datacom.
Measurement.
Aviation.
Specifications typical at TA = 25°C, nominal input voltage and rated output current unless otherwise specified
Part Number
Output Voltage
Output Current
Ripple & Noise
Efficiency
Vdc
mA
Typ
(mVp-p)
Max
(mVp-p)
%Typ
14DB-05S05N2W
5
400
60
100
80
14DB-05S09N2W
9
222
60
100
82
14DB-05S12N2W
12
167
60
100
82
14DB-05S15N2W
15
133
60
100
82
14DB-12S05N2W
5
400
60
100
82
14DB-12S09N2W
9
222
60
100
82
14DB-12S12N2W
12
167
60
100
84
14DB-12S15N2W
15
133
60
100
84
14DB-15S05N2W
5
400
60
100
80
14DB-15S09N2W
9
222
60
100
82
14DB-15S12N2W
12
167
60
100
83
14DB-15S15N2W
15
133
60
100
83
14DB-24S05N2W
5
400
60
100
82
14DB-24S09N2W
9
222
60
100
84
14DB-24S12N2W
12
167
60
100
84
14DB-24S15N2W
15
133
60
100
84
14DB-24S24N2W
24
84
60
100
85
14DB-05D05N2W
± 5
± 200
60
120
80
14DB-05D09N2W
± 9
± 111
60
120
82
14DB-05D12N2W
± 12
± 84
60
120
82
14DB-05D15N2W
± 15
± 67
60
120
82
14DB-12D05N2W
± 5
± 200
60
120
82
14DB-12D09N2W
± 9
± 111
60
120
84
14DB-12D12N2W
± 12
± 84
60
120
84
14DB-12D15N2W
± 15
± 67
60
120
84
14DB-15D05N2W
± 5
± 200
60
120
80
14DB-15D09N2W
± 9
± 111
60
120
82
14DB-15D12N2W
± 12
± 84
60
120
83
14DB-15D15N2W
± 15
± 67
60
120
83
14DB-24D05N2W
± 5
± 200
60
120
82
14DB-24D09N2W
± 9
± 111
60
120
78
14DB-24D12N2W
± 12
± 84
60
120
78
14DB-24D15N2W
± 15
± 67
60
120
80
Input Specifications
| Parameters | Conditions | Min | Typ | Max | Units |
| --- | --- | --- | --- | --- | --- |
| Voltage Tolerance | Vo,Io Nom | | | ± 10 | % |
| Filter | Capacitor | | | | |
Output Specifications
Parameters
Conditions
Min
Typ
Max
Units
Voltage Tolerance
100% full load
± 5
%
Short Circuit Protection
Continuous
Line Regulation
For 1.0% of Vin
1.2
%
Load Regulation
5V, 9V
(10% To 100% F.L)
15
%
Load Regulation
12~24V
(10% To 100% F.L)
10
%
Load Regulation
± 5V,± 9V
(10% To 100% F.L)
15
%
Load Regulation
± 12V~± 24V
(10% To 100% F.L)
10
%
General Specifications
Parameters
Conditions
Min
Typ
Max
Units
Isolation Resistance
500Vdc
1000
MΩ
Switching Frequency
Full load, nominal input
100
KHz
Operating Temperature
-40
+105
°C
Storage Temperature
-55
+125
°C
Humidity
Non Condensing
95
%
Cooling
Free air Convection
Case Material
DAP
MTBF
MIL-HDBK-217F @25°C
3500000
Hours
Weight
2.7
g
Dimensions
19.5 x 7.1 x 10.0
mm
Markings and Dimensions

Related Products

---

Files Download

---

2W 1KV Isolation Continuous Protection SIP DC-DC Converter PDF Catalogue

---

---
Press Release
2019 APEC

From March 17th to March 21th, it will be exhibited at Anaheim Convention Center. Our booth number is 572. We sincerely invite you to visit.

Read More

2019 Expo Electrionica

From April 15th to April 17th, it will be exhibited at Moscow, Crocus Expo, Pavilion 3, halls 12,13. Our booth number is A165. We sincerely invite you to visit.

Read More

2018 TAITRONICS Exhibition

From October 09th to October 12th, it will be exhibited at Hall 1 of Taipei Nangang Exhibition Center. Our booth number is I0330. We sincerely invite you to visit.

Read More