Single Port 1000 Base-T PoE Include PD Controller RJ45 Jack with Magnetics
56F-19XX Series
Single Port 1000 Base-T Include PD Controller PoE RJ45 Connector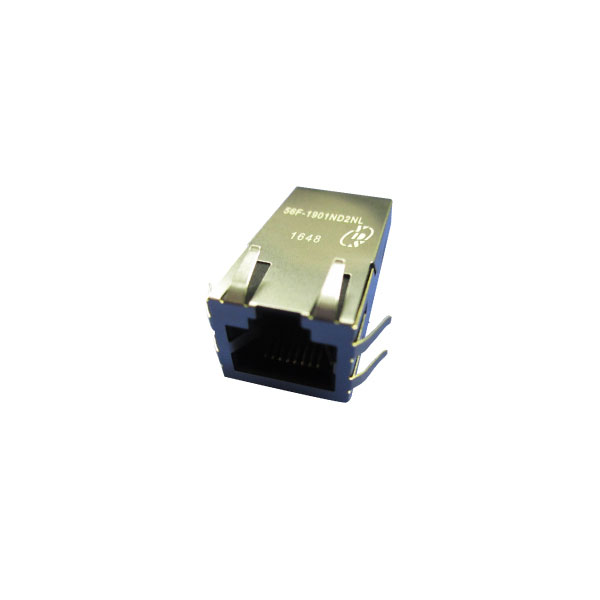 56F-19XX Series Single Port 1000 Base-T Include PD Controller PoE RJ45 Jack With Magnetics

We provide PoE Injectors/Adapters with data rate 10 / 100 / 1000Mbps, our 56F-19XX series, with single port 1000 Base-T include PD controller PoE RJ45 jack with magnetics.
Features
1X1 Tab-UP, 1" Long RJ45 with internal magnetics.
16pin signal pin versions available.
without LEDs.
Suitable for CAT 5 & 6 Fast Ethernet Cable or better UTP.
Internal magnetics are 100% electrically tested for HI-POT and functionality.
350 µH minimum OCL with 8 mA bias current.
Meets IEEE 802.3af specification.
Applications
Telecom equipment.
HUB.
Wireless router station.
VoIP device.
Vedio camera.
PD Controller
Meets IEEE 802.3af Specifications.
100V, 0.6Ω Integrate DMOS Device.
600mA max, Temperature Compensated Current Limit.
Open Drain Power Good Output.
Electrical Specifications@25°C; Operating Temperature 0°C to 70°C
Part Number
Turns Ratio
(± 3%)
LEDs
Insertion Loss
(dB MAX)
Return Loss
(dB TYP)
Crosstalk
(dB TYP)
Common Mode Rejection
(dB TYP)
DCR
PoE
Current
Hipot
(Vrms)
L/R
0.3 - 100
MHz
0.5-30
MHz
40
MHz
50
MHz
60-80
MHz
0.3-100
MHz
0.3-30
MHz
30-60
MHz
60-100
MHz
@60Hz
56F-1901ND2NL
1CT: 1CT
NONE
-1.1
-18
-15.5
-13.6
-12
-30
-50
-40
-30
1.2Ω MAX
350mA
1500
Mechanicals and Dimensions

Related Products

---

Files Download

---

PoE Solution Tab Up Single Port Include PD Controller RJ45 Jacks PDF Catalogue

---

---
Press Release
2019 APEC

From March 17th to March 21th, it will be exhibited at Anaheim Convention Center. Our booth number is 572. We sincerely invite you to visit.

Read More

2019 Expo Electrionica

From April 15th to April 17th, it will be exhibited at Moscow, Crocus Expo, Pavilion 3, halls 12,13. Our booth number is A165. We sincerely invite you to visit.

Read More

2018 TAITRONICS Exhibition

From October 09th to October 12th, it will be exhibited at Hall 1 of Taipei Nangang Exhibition Center. Our booth number is I0330. We sincerely invite you to visit.

Read More