10W 1.5KV Isolation 2:1 DIP DC-DC Converters(68D10)
68D10 Series
10W 1.25'' x 0.8'' 1.5KV 2:1 Wide Input Range DC to DC Power Conversion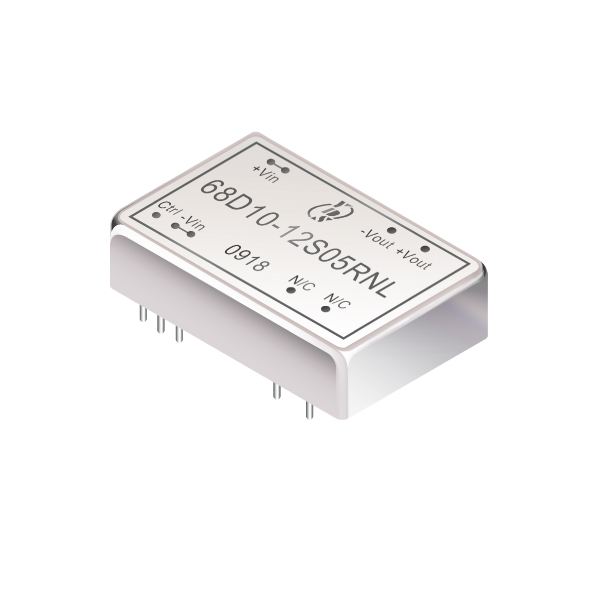 10 watt DC to DC power converter with 1.5KV isolation features a wide input 2:1 voltage range and single/dual output specifications in 24 pin DIL package. 68D10 series has a remote control switch function, and the packaging material meets UL94V-0 specifications. The operating environment temperature from -40°C to +84°C, the efficiency can reach up to 87%. The products are tested by 100% high temperature pre-burn before shipment.
The DC-DC power converter products of Yuan Dean are RoHS-compliant, and can be customized for products. The products are guaranteed for 3 years after sale.
Any OEM/ ODM requirement is welcome. We look forward to cooperating with you!
Features
10W DIL package.
2:1 wide input range.
100% burned in.
High efficiency up to 87%.
Customized solutions available.
Remote control:on/off.
UL94V-0 package material.
Operating temperature: from -40°C to +84°C.
3 years warranty.
Applications
Industry equipment.
Sensing equipment.
Instruments.
Wireless Network.
Telecom/Datacom.
Measurement.
Aviation.
Specifications typical at TA = 25°C, nominal input voltage and rated output current unless otherwise specified
Part Number
Input Voltage
Input Current
Output Voltage
Output Current
Efficiency
Vdc
No Load (mA TYP)
Full Load (mA TYP)
Vdc
Full Load (mA)
%Typ
68D10-12S03RNL
9-18
50
971
3.3
3000
85
68D10-12S05RNL
9-18
50
980
5
2000
85
68D10-12S12RNL
9-18
30
957
12
833
87
68D10-12S15RNL
9-18
30
963
15
670
87
68D10-12D05RNL
9-18
30
992
± 5
± 1000
84
68D10-12D12RNL
9-18
30
966
± 12
± 420
87
68D10-12D15RNL
9-18
30
977
± 15
± 340
87
68D10-24S03RNL
18-36
40
485
3.3
3000
85
68D10-24S05RNL
18-36
40
490
5
2000
85
68D10-24S12RNL
18-36
30
479
12
833
87
68D10-24S15RNL
18-36
30
481
15
670
87
68D10-24D05RNL
18-36
30
496
± 5
± 1000
84
68D10-24D12RNL
18-36
30
479
± 12
± 420
87
68D10-24D15RNL
18-36
30
483
± 15
± 340
87
68D10-48S03RNL
36-75
30
243
3.3
3000
85
68D10-48S05RNL
36-75
30
245
5
2000
85
68D10-48S12RNL
36-75
20
239
12
833
87
68D10-48S15RNL
36-75
20
241
15
670
87
68D10-48D05RNL
36-75
20
248
± 5
± 1000
84
68D10-48D12RNL
36-75
20
241
± 12
± 420
87
68D10-48D15RNL
36-75
20
244
± 15
± 340
87
Input Specifications
Parameters
Conditions
Min
Typ
Max
Units
Voltage Types
2:1
Filter
PI Network
Output Specifications
Parameters
Conditions
Min
Typ
Max
Units
Voltage Tolerance
Full load@Vin(nom.)
± 2
%
Short Circuit Protection
Hiccup,
automatic Recovery
Line Regulation
± 0.5
%
Load Regulation
Single
Dual(Balance Load)
± 0.5
± 0.5
%
Cross Regulation
Dual
(25% To 100% Load)
± 5
%
Ripple & Noise
Output:3-15V TYPES
BW=DC To 20MHz
100
mVp-p
Output > 15V TYPES
BW=DC To 20MHz
1% of Vout
mVp-p
Transient response setting time
25% load step change
350
us
General Specifications
Parameters
Conditions
Min
Typ
Max
Units
Isolation Voltage
1500
Vdc
Isolation Resistance
500Vdc
1000
MΩ
Switching Frequency
400
KHz
Operating Temperature
With derating
-40
+84
°C
Storage Temperature
-55
+125
°C
Humidity
Non Condensing
95
%
Cooling
Natural Convection (20LFM)
Case Material
Nickel Coated Copper With Non-Conductive Base
MTBF
MIL-HDBK-217F@25℃
900000
Hours
Weight
17.5
g
Dimensions
31.60 x 20.10 x 10.00
mm
Certification
Markings and Dimensions

Related Products

68DW10 Series

---

DC to DC power converter features 10 watt Power and 1.5KV isolation voltage in a 24 pin DIL package. 68DW10 series has a wide input 4:1 voltage range and is available in single and dual output specifications. This product has remote control function and the packaging material meets the UL94V-0 specification . The operating environment temperature from -40°C to +84°C, and the efficiency can reach up to 87%. The products are tested by 100% high temperature pre-burn before shipment. The DC-DC power converter products of Yuan Dean are RoHS-compliant, and can be customized for products. The products are guaranteed for 3 years after sale. Any OEM/ ODM requirement is welcome. We look forward to cooperating with you!

---

68D12 Series

---

12 watt DC to DC power converter with 1.5KV isolation voltage and a wide input 2:1 voltage range. 68D12 series is available in a 24 pin DIL package with single and dual output specifications and remote switch function. The product packaging material meets the UL94V-0 specification. The operating environment temperature from -40°C to +81°C, and the efficiency can reach up to 87%. The products are tested by 100% high temperature pre-burn before shipment. The DC-DC power converter products of Yuan Dean are RoHS-compliant, and can be customized for products. The products are guaranteed for 3 years after sale. Any OEM/ ODM requirement is welcome. We look forward to cooperating with you!

---

68DW12 Series

---

12 watt DC to DC power converter with a wide input 4:1 voltage range in 24 pin DIL package. 68DW12 series has a 1.5KV isolation voltage and is available in single output and dual output specifications. This series has remote control switch function, and the packaging material meets UL94V-0 specifications. The operating environment temperature from -40°C to +81°C, and the efficiency up to 87%. The products are tested by 100% high temperature pre-burn before shipment. The DC-DC power converter products of Yuan Dean are RoHS-compliant, and can be customized for products. The products are guaranteed for 3 years after sale. Any OEM/ ODM requirement is welcome. We look forward to cooperating with you!

---

---

Files Download

---

10W 1.5KV Isolation 2:1 Wide Input Voltages Range DC-DC Converter PDF Catalogue

---

---
Press Release
2020 Electronica China Exhibition

From March 18th to March 20th, it will be exhibited at Shanghai New International Expo Centre. Our booth number is E6.6756. We sincerely invite you to visit.

Read More

Yuan Dean has been certified by the IATF 16949:2016

It is our pleasure to have IATF 16949:2016 certified. To fulfill customers' requirements, YDS provides appropriate training to support IATF 16949 requirements in manufacturing and R&D.

Read More

2019 TAITRONICS Exhibition

From October 16th to October 18th, it will be exhibited at Hall 1 of Taipei Nangang Exhibition Center. Our booth number is K0803. We sincerely invite you to visit.

Read More