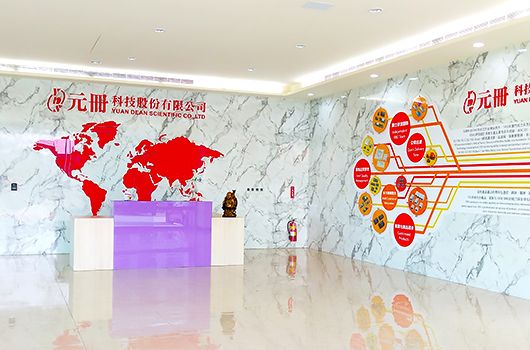 Company Profile
About Yuan Dean
Yuan Dean was established in 1990 at Tainan, Taiwan and our factory Ho Mao electronics was established in 1995 at Xiamen, China. We are the leading manufacturer with ISO 9001/ISO 14001/IATF 16949 certified and specializes in various products such as DC/DC converter, AC/DC converter, RJ45 with magnetics, 10/100/1G/2.5G/5G/10G Base-T Lan filter, all kinds of Transformer, Inductor, and LED Driver.
---
Why Choose Yuan Dean?
Independent R&D Team
With strong and knowledgeable R&D team for developing & designing and over 30 years professional experience in manufacturing, Yuan Dean provides total solution for application on communication network, industrial control, medical equipment, railway, aviation and safety surveillance equipment.
Strict Quality Management
Our QC department establish a strict rule for systematically connection, education and training, production process, we take excellent quality as our top aim.
Through numerous item of ISO QMS system, environment certification, Hazardous Substance Process Management Certification and use energy-dispersive X-ray fluorescence analyzer to ensure the reliability of ROHS.
Quick Delivery Time & Customized Service
Yuan Dean provides customized service according to customer's demand including design, quality, lead time, quantity etc.
Welcome to contact us for any OEM / ODM requirement, look forward to collaborating with you!
Multi Experience Integration
In 2015, we officially implemented the ERP system to achieve better integration of our overall performance. To fulfill the increasing demands from our worldwide customers, we relocated to Tainan Technology Industrial Park in 2016. Our factory in Xiamen also moved to a new site at the same time.
As always, YDS endeavors to offer our clients with high quality products. To make our products more reliable, we introduced new facilities to enhance our capability, such as EMC lab, reliability test lab and thermal shock testing chamber in a row.
As our business grows, we still focus on improving our quality and showing our concerns to the whole environment. We were certified by IATF16949 in 2019 and awarded ISO 14001 in 2020.
To further expand our production capability, we established SMT assembly line in 2021.
With over thirty years' experience, YDS will be your best partner for sure.
Our Office
Movies

Files Download